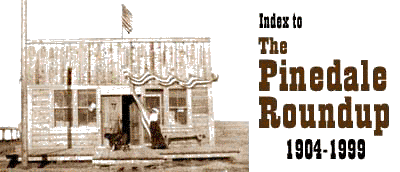 compiled by Judi Myers (Full Credits & Copyright)
Browse:
Search:
Download:

You can download for free the entire 1904-1999 index in one text file using the following links. There are 6 different text formats to choose from. Select a format, click on the link and save it to your computer. You can then open it in your word processor to do text searches.
HTML (1.9 MB Expanded, 550 KB zipped)
Adobe Acrobat 3.0 (1.5 MB Expanded)
Microsoft Word 6.0 (2.2 MB Expanded, 600 KB zipped)
Word Perfect 6.0 (1.8 MB Expanded, 484 KB zipped)
Rich Text Foramt (3.9 MB Expanded, 660 KB zipped)
Plain Text (1.3 MB Expanded, 452 KB zipped)

All of the files except for Acrobat have been compressed into a ZIP format to allow faster downloading. You will need a program such as WinZip to uncompress them. WinZip is free for personal use at www.winzip.com. A free Acrobat Reader is available at www.acrobat.com.
---
Credits & Copyright Notice
This index to the Pinedale Roundup Newspaper of Sublette County, Wyoming was compiled over a 20 year period by Judi Myers for the years 1904-1969 & 1980-1999 and by Ann Noble for the years 1970-1979. Jane Warinner typed the original manuscripts in four separate volumes. The printed volumes were scanned by Clint Gilchrist for the electronic edition, but the numerous scan errors were proof read and corrected by Judi Myers. It is being hosted and maintained online by Wind River Web Services at www.sublette.com. To read the actual articles, note the date and take your requests to the Sublette County Library (PO Box 489, 155 S. Tyler, Pinedale, Wyoming, 82941 or phone 307-367-4114) or Wyoming State Archives (Historical Research Dept., Barrett State Office Bdg., 2301 Central Ave., Cheyenne, WY 82002 or phone 307-777-7826, wyarchive@state.wy.us). Both institutions have early year Roundups on microfilm and later year issues hard-bound. Thanks to the generosity of Judi, feel free to download, print and use the electronic edition at no charge, but reproduction, publication or distribution of any of this material is prohibited without permission.

Pinedale Roundup Index 1904-1999
www.sublette.com
© 2001