Photographic History
of Sublette County, Wyoming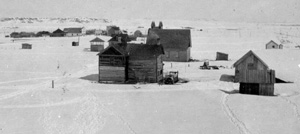 Big Piney
Taken from top of school looking east.
Photo courtesy of Georgia Wenz.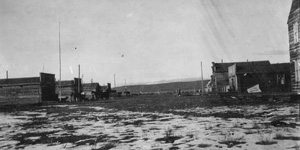 Pinedale 1906
View looking north on Franklin Ave.
Photo courtesy of Paul Allen.

2002 New Collections
Doug Nebeker (Early Big Piney)
Wilson Family (Early Pinedale)

The Sublette County Historic Preservation Board has been working since May 1998 to find and computerize photographs that document the history of Sublette County and its residents. Over 5000 images have been collected and scanned.

Memories can fade, but photographs are able to preserve a moment in time forever. Many of these valuable photographs that document our history are held in private collections where only a small number of people ever get to see them. Even those held at the museums are difficult to access because only a few can be displayed and originals are often fragile and have to be protected from handling. By computerizing these images, entire collections can be made available to everyone via CD-ROMs and the internet.

When time permits, a database providing context and descriptions about the photographs will be added as well as a search capability to make particular images easier to find. For now the photographs have to stand by themselves. They are grouped into collections reflecting the contributor. Some the collections are too large and have been seperated into albums. The back of many pictures were scanned because the notes often provides valuable descriptions. A link just below the picture on individual picture pages provides access to these back scans where available.

Everyone has generously given access to their collections and many volunteers have made this project possible. The groundwork has now been laid to allow computerization of collections for years to come. If you have photographs documenting the history of Sublette County that you would allow to be scanned and added to this project, please contact Clint Gilchrist at (307)367-6763 or support@sublette.com.

In general the photographs made available here retain the copyright of the owners who have given permission to have them scanned and used for this project. Restriction on any other use vary from collection to collection. Please contact Clint Gilchrist (support@sublette.com) and/or the individual owners for details of copyright and restrictions on any given picture.