Looking for the Sublette County website? Click here:
www.SubletteWyo.com

www.wyomingcowgirl.com
Stories from a Wyoming ranch by Wyoming Cowgirl Cris Paravicini

About Sublette.com
Sublette.com is a sister site to Pinedale Online. It is created and maintained by Wind River Web Services through Office Outlet in Pinedale. Our intent is to provide a site for the county residents and other people interested in information about Sublette County. If you have information about an event, a community or special interest you would like to see on Sublette.com, please call us at Office Outlet 307-367-6763 or e-mail us at info@sublette.com.
Pinedale's 100th Birthday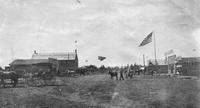 First July 4th celebration in Pinedale, 1905
Pinedale's celebrated its 100th Birthday in September, 2004. The community sponsored several events for the weekend. A photo exhibit is online, "Early Pinedale History" featuring 150 black & white photos. Click here to view the website.
St. Hubert the Hunter Church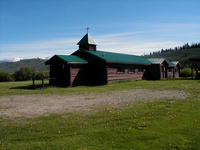 On January 24, 2002, St. Hubert the Hunter Church in Bondurant was enrolled in the National Register of Historic Places. This the Federal government's official list of historic places worthy of preservation. The Sublette County Historic Preservation Board was notified of the listing this week. This national listing recognizes the historical importance of the church. Visit Sublette County Historic Buildings to read the story of how this Episcopal church came to be.

National Register of Historic Places
National Register of Historic Landmarks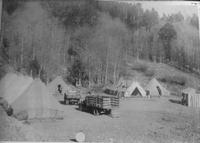 During the 1930's and 1940's the CCC Enrollees lived and worked in Sublette County. Evidence of their impact here can still be seen in the projects they built that are still in use today. Visit the new CCC in Sublette County page.This is Ann Noble's presentation about the CCC Camps and the enrollees and the part they have played in our county's history. Included are many photographs from private citizens' and the Museum of the Mountain Man's collections.
Sublette County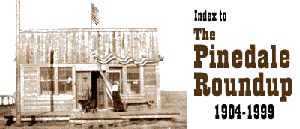 This Pinedale Roundup Index compiled by Judi Myers, is now available online. Over the course of 20 years Judi has worked to complete this index for the Pinedale Roundup, Sublette County's newspaper. Due to Judi's generosity the entire index from 1904-1999 can be downloaded for free. The online index allows you to search for information yearly, monthly and by subject. The actual articles can be found at the Sublette County Library in Pinedale and the Wyoming State Museum in Cheyenne. The contact information for these institutions is on the Pinedale Roundup Index site. They have early issues of the Pinedale Roundup on microfilm and the later hard bound issues. The index is being hosted and maintained by Wind River Web Services on this site www.sublette.com.

CD-ROMs for the entire index can also be purchased for $10/each at Office Outlet in Big Piney and Pinedale, Wyoming. The 4 original printed volumes: Vol. I: The First 25 Years, 1904 -1929, Vol. II: 1930-1954 and Smoke Signals, 1952-1954, Vol. III: 1955-1979, and Vol: IV: 1980-1999 can also be purchased at Office Outlet for $12/each.
Judi compiled this index to help aid historical and family researchers. Please refer to the Pinedale Roundup Index site for the credit and copyright notice information.